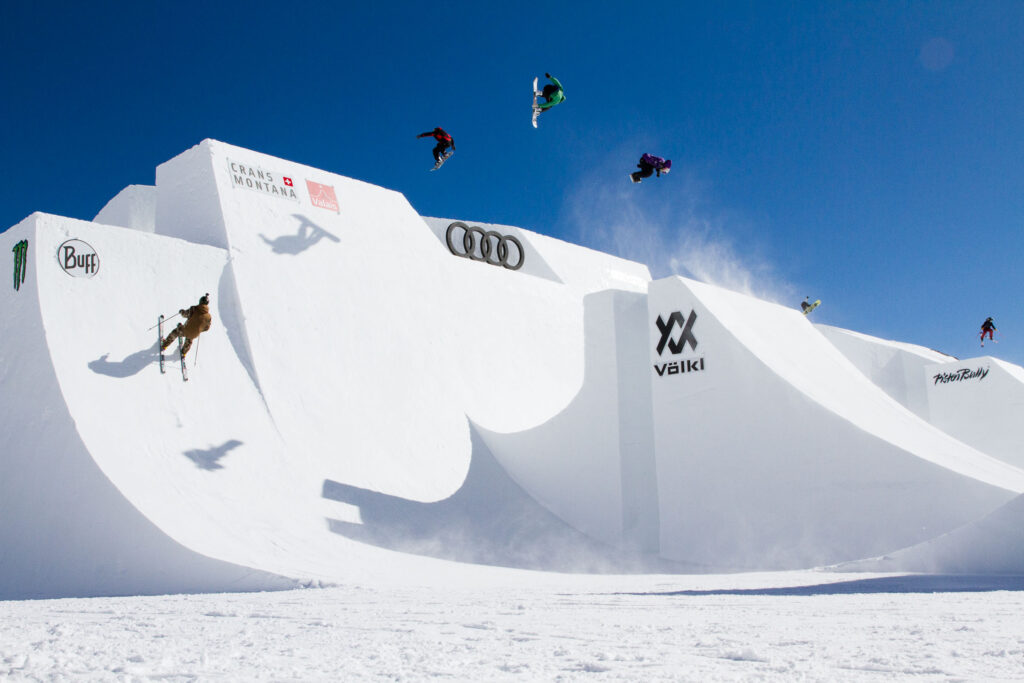 The pause of the pandemic not only halted daily life, but inserted a gap across a whole host of record books – with events and competitions cancelled across the globe.
Not ones to rest on a year of lost action, the guys at one of extreme sport's most acclaimed free-ski events, The Audi Nines, began to innovate.
The return of the Audi Nines brought with it a revamped course devised by Audi designer Sebastian Gehwolf, and the powdered playground did nothing but deliver.
Last week, 44 skiers and snowboarders from across the globe shredded up the weirdly wonderful Snowpark in Crans-Montagne, Switzerland, hitting some pretty huge air in the process.
With 6 epic quarter pipes and a large "step up" style of jump where the landing is much higher than the takeoff, the 2021 Audi Nines reminded us how much we've missed it. Other innovations included a massive 8 metre 'snow sphere' designed for riders to bounce off, jump over or blaze through, which we'll let Monster Energy rider Quinn Wolferman eloquently demonstrate.
With a reputation for big names, big tricks, and big features, you'd expect the Audi Nines to produce some of the biggest prizes of the season. But what makes the Nines one of Snow TV's favorite events on the calendar is the community vibe.
The Audi Nines isn't a contest. Instead, riders cast votes to recognise the session's top performers once proceedings have come to a close. Amongst other awards for best trick and most creative riders, four winter stars were dubbed the Rulers of the Week, making the best overall impression: Sarah Hoefflin, Sebbe De Buck, Matěj Švancer and Tess Coady. Congrats guys!
"The Audi Nines setup this year was absolutely mind-blowing. It was created by a designer from Audi along with some of the riders, so that made this amazing piece of art that you can ski on. It's really cool to shred with all your friends and end the season on a high note," said NZ freeskier Nico Porteous.
With the Nines over for another year, there's no need to worry. More footage from the biggest jumps and gnarliest tricks will still be flooding onto the event's social channels for weeks to come (@audinines). For now though, enjoy this epic video celebrating the 2021 edition!